Football Injuries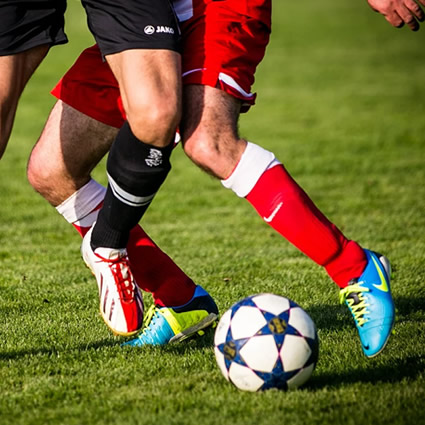 Football is one of the sports with the highest injury rate – whether you are playing at a professional level or an amateur one. Most football injuries affect the lower extremities – defined as the groin, pelvis, hip, thigh, knee, calf, foot and ankle – and are most commonly caused by trauma, such as a collision with another player or an awkward landing. Alternatively, football injuries can develop over a period of time due to overuse and repetitive stress and strain.
If you have sustained a football injury, it is incredibly important to get it seen to and cared for as soon as possible to prevent further or longer lasting damage being caused.
We can care for a variety of football injuries including:
Hamstring strain/sprain
Ankle pain
Our dedicated Team can comprehensively assess your problem, ensuring a quick and effective diagnosis. Our wealth of experience means we can help care for an extensive selection of problems and get you back on the pitch as soon as possible!
Schedule an Appointment
Request an appointment today and take the first step to better health.
CONTACT US »

The Bio Mechanix | 020 7731 7640