Massage Therapy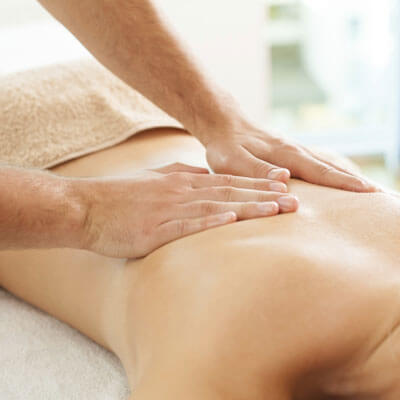 It's no secret that today's world is full of stressors that can affect us emotionally, chemically and physically.
Which is why we're proud to offer focused, gentle massage therapy for patients of all walks of life. Our practice has multiple certified massage therapists that will listen to your concerns and problem areas. If you're already a patient with us, they'll also speak with your practitioner and come into your session with a deep understanding of your ultimate health goals.
Our massage therapists pull from a variety of techniques to craft the perfect session for you, which may include deep tissue, cupping, lymphatic drainage, Swedish techniques or cellulite reduction.
We'll also make sure you feel listened to and heard along the way.
Benefits of Massage
Aside from relaxation and stress relief, massage has a world of benefits which our patients enjoy, including:
Lymphatic drainage
Improved blood flow and circulation
Cellulite reduction
Improved metabolism
Tension relief
Headache Relief
And more
Currently, we offer both 45 minute and 60-minute sessions, and longer appointments can be booked upon request.
The human body is born to express health. As a result the human body is 'intelligent' as such and will adapt to the changing environment so to keep you functional within that environment.
With this fact in mind, unless your muscles are subject to direct trauma (e.g. physically hit), they will tighten up to provide the necessary 'scaffolding' for a part of the human frame that is not structurally and functional sound. Muscles do not tighten up because they simply feel like it! They tighten for a very good and functional reason. Does this mean we should not receive massage? Not at all…
Massage is extremely beneficial (a list of all the benefits are below), however, we have found a combination of addressing the muscular tightness (massage) and keeping the human structure functional (chiropractic) results in a more effective and lasting outcome. There are strong evidence and research to back this up too.
At The Bio Mechanix, we recommend both chiropractic and massage together however whether you prefer one or the other, we are here to serve you.
Remedial/Deep Tissue massage (SRM) has many benefits. In the modern world, where such a large percentage of time is spent sitting, massage can be vital in undoing the negative effects of our lifestyle. Patients who receive regular massage have shown that SRM can help in restoring function by:

Improving posture
Reducing back pain/general aches & pains
Reducing tension headaches
Improving mobility
Improving circulation
Improving injuries
Massage can also benefit patients physiologically. Patients report that treatment has also had the effect of improving the quality of their sleep, reducing their fatigue, and perhaps most importantly, improving their overall state of wellbeing.

Massage is designed to relieve tension, promote relaxation, reduce stress and help you feel better. Most massages will be completely relaxing and pain free. In some cases, there may be the need to apply pressure to problem areas or certain trigger points that are very tense. We'll always let you know in advance so we don't startle you. Everyone has different pain tolerances, if the pressure is too painful, please let us know right away as it can always be adjusted.
How often can I visit the practice for a massage?

This depends on your unique goals and the plan set forth with your practitioner. Generally, patients visit us as often as every week, every month or every few months. The choice is entirely up to you, though we can certainly recommend a timespan that will work to bring you relief and the best results.
Will I be completely undressed?

During a massage, it is necessary to remove your clothing so that we're able to work all of the muscles in your back and shoulders equally. However, we can assure you that you will be covered with a sheet and never exposed, retaining modesty as best as we can. We always want you to feel comfortable in our care.
How many sessions will I need until I feel better?

This largely depends on your unique problem. At your first visit, we'll be able to better assess how we can help you and develop a plan to move forward. If you're already a patient with us under chiropractic care, we can work with your chiropractor to build the perfect sessions for you to help build upon your progress.
Book Your Remedial Massage
If you'd like to learn more about massage therapy and book a relaxing appointment, we'd love to meet you. Contact us today to book your first appointment and begin your journey toward stress-free living.
We look forward to welcoming you into our practice!
CONTACT US »

Massage Therapy Fulham, Chelsea LND | 020 7731 7640