How The Bio Mechanix Can Help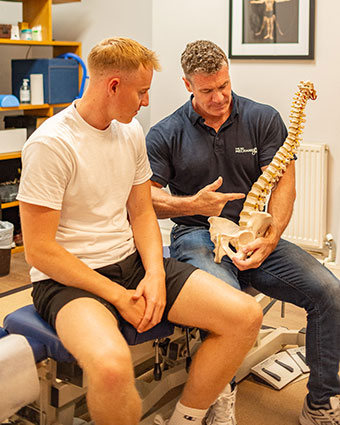 At The Bio Mechanix, we offer a unique approach to healing and wellness. By practicing advanced chiropractic techniques combined with deep tissue massage, and acupuncture including the use of sophisticated modern healthcare equipment, we can care for a myriad of injures and prevent the risk of recurring symptoms in the future. Some of the various conditions we have helped with we include:
Our team of practitioners at The Bio Mechanix is wholly committed to restoring our clients to their natural state of optimal body health. To achieve this aim, our expert chiropractors and certified massage therapists utilise state of the art equipment, such as electric treatment benches, manual adjustments, massage, trigger point therapy, acupuncture as well as offering nutritional and exercise rehabilitation advice, in order to precisely diagnose the cause of your injuries and subsequently administer appropriate care.
We endeavor to remove pressures, tensions and those facts that interfere with your body's healing ability, thereby facilitating your body to heal naturally and maintain its own health. As such, our clients can benefit from natural procedures that will alleviate their chronic pains without having to resort to expensive risky surgical procedures or unnatural prescribed painkillers.
As part of our goal to facilitate your body's natural healing process, we recommend a series of lifestyle changes that can exponentially benefit your overall health and mental wellbeing. We recommend that you implement the following lifestyle changes into your everyday routine in order to optimize your body's health, movement and nerve function:
Following a regular exercise program,
Eating a balanced and nutritious diet- eat more fruit and vegetables and avoid sugary, processed foods,
Maintain good posture,
Get enough sleep- at least 6-8 hours a day,
Aim to reduce your stress (For more advice, see our condition on stress)
Maintain a healthy body weight,
Sleep upon a supportive mattress,
Drink more water- approximately 2 liters per day,
Take nutritional supplements,
Stop smoking,
Avoid consuming excessive amounts of alcohol and caffeine,
Wear orthotics- these are custom fitted inserts which you place into your shoes to keep your feet functioning correctly and maintain overall body balance, good posture and stability.
Book an Appointment
Request an appointment today and take the first step to better health.
CONTACT US »

The Bio Mechanix | 020 7731 7640