Shoulder Pain Relief
What is shoulder pain?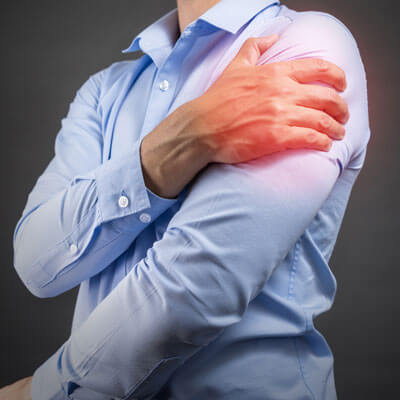 Shoulder pain can arise as the result of numerous incidents; either from an injury such as a motor accident, or as the symptom of a chronic condition such as arthritis. Many clients we examine at The Bio Mechanix are often surprised by the intensity and duration of shoulder pain. It is important to remember that your shoulders are essential parts of your body that are fundamental for performing the majority of daily activities. As such, any shoulder pain injuries should be seriously considered and immediately treated to prevent long-term physiological changes.
What are the symptoms of shoulder pain?
Some of the most common symptoms of shoulder pain include:
Weakened ability to hold objects,
Decreased functioning of your arms,
Shoulder pain which persists even whilst at rest,
Shoulder pain which persists more than a day or two,
Unusual twinges or aches around your shoulder area.
If you suffer from any of these conditions, it is crucial that you seek professional help. For instance, chiropractic care has been shown to be an extremely effective treatment for shoulder pain, irrespective of the initial cause.
How The Bio Mechanix can help
Our team of experienced chiropractors will precisely examine your neck area since shoulder pain can frequently be the result of "referred" pain from the neck. Whether the shoulder pain is connected to the neck or is limited to the lower part of the shoulder, it can generally be treated with non-invasive methods of natural healing such as chiropractic care and massage therapy.
Care for an injured shoulder may include the application of heat or ice packs, gentle manipulation from the chiropractor to help the shoulder return to its original state of functionality, as well as gentle stretching and strengthening exercises that the you can perform at home.
At The Bio Mechanix, we offer a unique approach to healing and wellness. Our team of fully qualified and registered practitioners utilise state of the art chiropractic equipment such as electric treatment benches to extensively examine your shoulder and neck area in order to diagnose the cause of your shoulder pain. Nevertheless, whether your shoulder pain is related to a neck injury or whether it is isolated to the lower part of your shoulder, we can prescribe and administer a course of non-invasive healing methods that will alleviate your shoulder pain.
By undergoing regular massage treatments and chiropractic care, you can reduce the probability of your shoulder pain resurfacing in future. We also offer acupuncture to help alleviate the symptoms.
We Can Help
For more information on chiropractic care for your shoulder pain, why not call The Bio Mechanix today and begin to revitalise your health and wellbeing!
CONTACT US »

The Bio Mechanix | 020 7731 7640