Oliver Harris, Chiropractor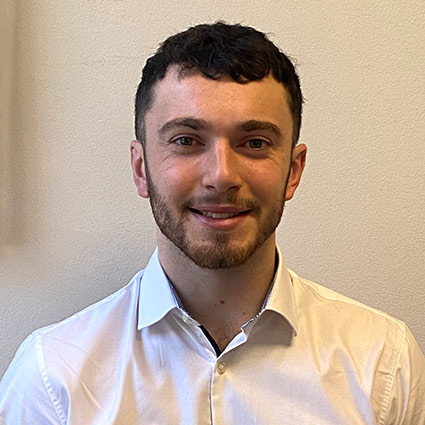 Kind and genuine, Oliver truly cares about his patients and what's going on with them. "I want them to know I'm here to help." For him, one of the most rewarding aspects of being a chiropractor is helping someone struggling to walk, stand up, or even move their neck. He is passionate about alleviating the pain that's affecting their quality of life, so they can return to what they love doing.
Oliver also encourages each of his patients to get active and keep their body moving, as doing so will improve their life.
Experiencing the Effects of Chiropractic
Oliver has always been interested in the human body. When he was younger, he did a lot of sports, primarily judo. He sustained a few injuries and saw a chiropractor for relief. That chiropractor helped spark Oliver's interest in this form of natural health care, and he knew from about 14 that he would become a chiropractor.
EXPLORE OUR SERVICES »

Education & Experience
In 2021, Oliver graduated from the AECC University College in Bournemouth, with a Masters in Chiropractic. After graduation, and before joining The Bio Mechanix team, he worked at a clinic in his hometown for 18 months. Oliver was then ready for a change and is delighted to be part of our team, as the practice is a fantastic fit for him.
Outside the Practice
Passionate about sport and movement, Oliver is a big believer in keeping yourself healthy. He does judo and Brazilian jiu-jitsu, plays rugby, and goes to the gym.
He also likes meeting friends, exploring different areas, and going on walks. To recharge, Oliver enjoys watching movies and listening to podcasts. He also loves spending time with his family when he can, which consists of his parents and his younger brother. They particularly enjoy going to the United States for skiing holidays.
Contact us today to schedule an appointment with Oliver!


Chiropractor Oliver Harris | 020 7731 7640